K-SUITE 3.59
THANKS TO THE NEW K-SUITE UPGRADES, THE LATEST GENERATION ECU INSTALLED ON EURO 6B CARS WILL BE SUPPORTED.
News on the way! As of today, Alientech will introduce Service Mode (SM).

Up until a year ago

, to work on the ECUs, it was necessary to disassemble them on the bench, connecting directly to the board, using the manuals included in the dedicated software.


In March 2019

we introduced the

Tricore Service Mode (TSM)

, that gave you the possibility to work on bench on the ECUs with Tricore microcontroller without having to open them.


Today

we are introducing

Service Mode (SM)

: you will not need to purchase any new hardware, cable or external adapter.
To receive the new activation

free of charge

, you only need an active subscription and the Tricore Service Mode on K-TAG Master or Slave.


The new activation Service Mode

will contain all the communication protocols included in the Tricore Service Mode activation.
New vehicles will be supported: from today you can download the new protocol dedicated to

Bosch MDG1

, so you will be able to remap the latest generation petrol and diesel control units!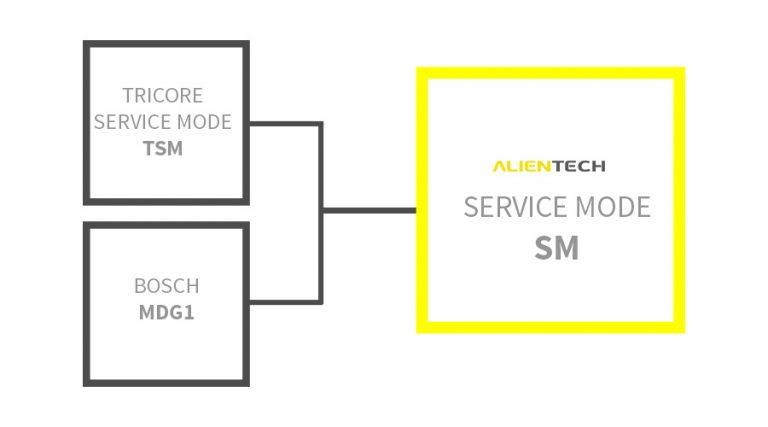 SERVICE MODE (SM): HOW DOES IT WORK?


Don't open the ECU!

Read and write by connecting directly through the connector pins, optimizing and speeding up the steps.DO YOU ALREADY HAVE A K-TAG SUBSCRIPTION? DOWNLOAD THE NEW UPDATE FOR FREE!
Do you have K-TAG Master with Tricore Service Mode and an active subscription?
K-TAG Slave with an active subscription?
Download the new K-Suite update to receive

the new SM activation free of charge

! Thanks to your subscription you can receive assistance, access all our web services, request the original files and receive the new protocols.


And when does the subscription expire?

You will be able to benefit from everything you already have and receive assistance on the purchased products.


Download the new update

and become even more competitive by starting to work on the latest

ECUs Bosch MDG1

. Increase the number of vehicles you can remap.